The Nothing Phone (1) Now In Nepal!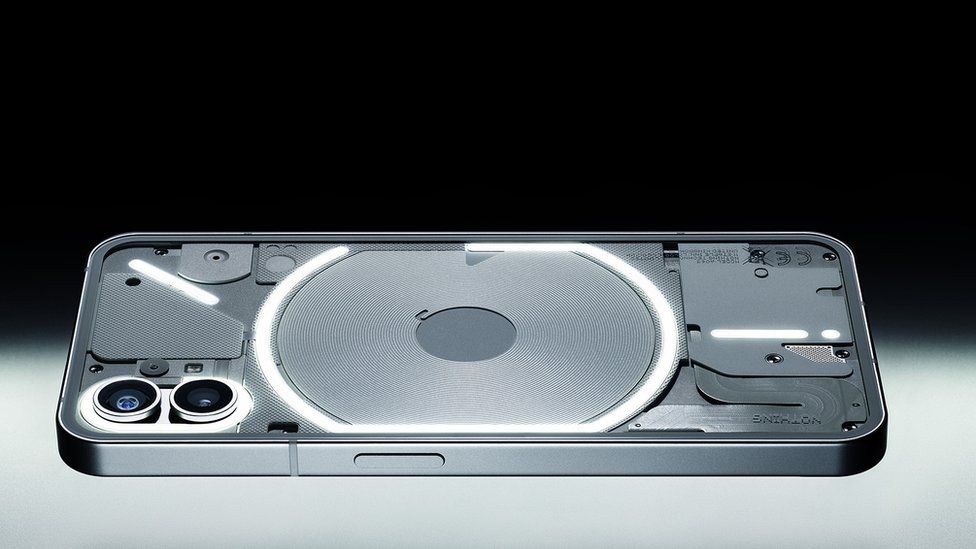 Less distractions. More soul. Just pure instinct, formed as a machine. Told through beautiful symbols. Deeper interactions. And brave simplicity.Phone (1) can bring us back. To us.
Glyph Interface
Meet the Glyph Interface. A new way to communicate. Unique light patterns indicate who's calling. Signals app notifications, charging status and more. Everyday interactions, made joyful.

Calls
Never miss what's important. Pair individual contacts to ringtones, each with a unique Glyph pattern. know who's calling even on silent mode.
Notifications.
Only know what you want to. Choose different Glyph patterns for notifications to easily filter messages and emails from calls. Notification lights dim for less disturbance. Check battery status, and know when reverse charging is in use.
Flip to Glyph.
For quite focus. Flip Phone (1) with the Glyph interface face up to trigger silent, lights-only notifications. Adjust brightness as needed.
Design
Design that goes beyond the surface. Dual-side Gorilla® Glass gives toughness. Advanced vibration motors make touch responses life-like. The symmetrical bezels and aluminium frame adds elegance, lightness and durability
Nothing OS
Say hello to Nothing OS 1.5, powered by Android 13. Our smoothest, most secure user experience yet. With bespoke apps, fonts, sounds and wallpapers. And effortless integration with third party products. Without the bloatware.
Open
Nothing Ecosystem is an open invitation. Control third party products from Quick Settings as easily as Nothing ones. Starting with Tesla. Unlock doors, turn on AC and see miles left. Check AirPods battery status. No seperate apps. One home for everything.
Speed
Power. Delivered where it's needed most with smart software that learns from your usage. Most-used apps load super-fast; the rest are frozen to conserve power
50 MP Dual Camera
Time to unlearn. Better quality isn't more cameras. this extraordinary dual camera has two advanced 50 MP sensors. For brilliant realism. Shoots exceptionally stable videos. HHas studio lightning build-in. And night mode to take images to the next level.
Display
1 billion colours. Every hue, powerfully true-to-life. 6.55" OLED display. HDR10+. Richer colour and deeper contrasts, tuned to each scene. Adaptive 120Hz refresh rate for irresistibly responsive interactions, while being reassuringly power-efficient.