Asus Vivobook 14 M1405YA - Ryzen 7-7730U | 8GB | 512GB | WUXGA | Radeon Graphics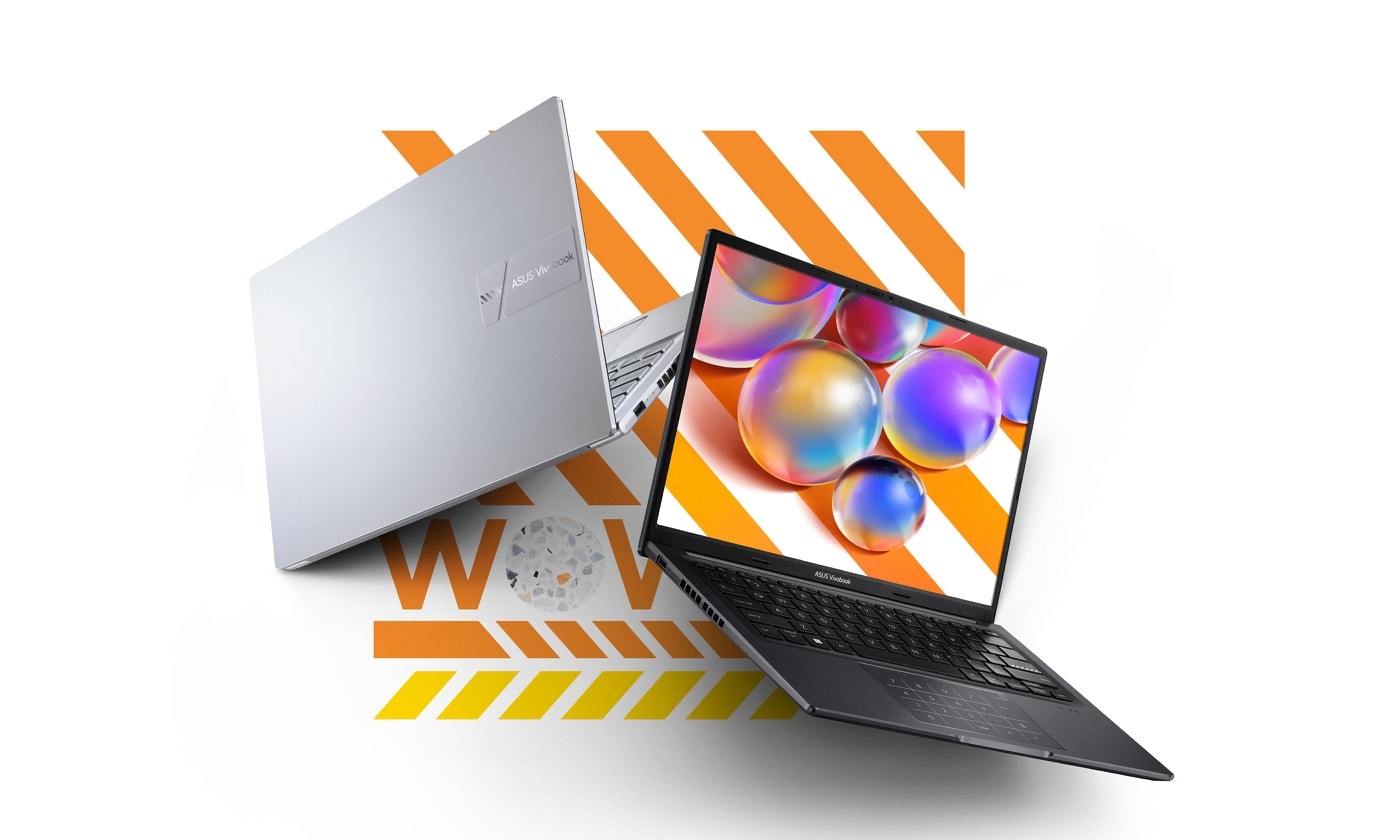 Everything is smoother with the powerful ASUS Vivobook 14, the feature-packed laptop with a brilliant display. And everything's easier too, thanks to user-friendly features including a 180° lay-flat hinge, a physical webcam shield, and dedicated function keys to turn your mic on or off. Your health is in safe hands with ASUS Antimicrobial Guard Plus protecting frequently touched surfaces, and the bigger touchpad is now more finger-friendly. Enjoy the smooth power of Vivobook 14!
Smooth power
Make light work of any task with Vivobook 14! It's a good-looking companion that's always there for your everyday needs, in the office, at home, or at play. It's powered by up to AMD Ryzen™ 7 7730U Processor with 8 GB of fast memory, 512GB of speedy SSD storage and WiFi 6E, so you'll never be short of performance even when those tough tasks are piling up.
Cooler, quieter and faster!
To keep it cool in all situations, the Vivobook ​1​4 use an IceBlade fan ​and dual air vents to ​efficiently accelerate heat transfer ​for smooth, ​​stable ​performance​ without processor throttling​.
ASUS ErgoSense keyboard, comfortable typing experience
Your comfort is our highest priority. That's why the ASUS ErgoSense keyboard has an incredibly satisfying feel, with the optimum key bounce and travel calculated with fine-tuned precision. Experience the ErgoSense keyboard and you'll soon find yourself cruising effortlessly through your work.
Full-sized keyboard 19.05 mm
The full-size 19.05 mm key pitch is the same as a desktop keyboard so you can whizz through your work with superb typing comfort and accuracy.
The 0.2 mm key-cap dish is designed to match the shape of your fingertips so your fingers are gently guided to the ideal contact point with the keys.
The long 1.4 mm key travel lets you type without having to use too much force. And the special ASUS-designed rubber dome guarantees your click force is met with just the right tactile bump you need for a nice grip.
When fully depressed, the keys on the ErgoSense keyboard don't sink below the level of the keyboard deck. The key caps remain at least 0.1 mm above the chassis surface, providing you with a comfortable, ergonomic typing experience.
Optimal click ratio: Engineered to perfection
The feel of a keyboard depends on the crucial ratio between the peak force (also known as the actuation force) and the contact force. Peak force occurs when you press down on the key and reach the maximum force that the key's underlying rubber dome can withstand without deflecting. Contact force occurs when the bottom of the key touches the circuit board to trigger an electronic signal, which in turn generates the action appropriate to the key. To achieve the most natural feel for a keyboard, ASUS keyboard experts have scientifically determined that the optimal ergonomic click ratio for a key is between 45-60%. These forces are precisely measured and tuned using the ASUS-designed rubber domes beneath the keys.
Inhibit 99% of COVID-19, flu virus & bacteria*
ASUS Antimicrobial Guard Plus is applied to frequently touched areas of your laptop to help keep it hygienic. This technology uses a denser treatment* that inhibits viruses and bacteria. And it is scientifically shown — using the ISO 21702 and 22196 standards — to inhibit virus and bacteria growth by more than 99% over a 24-hour period. Strains used for the tests include the SARS-CoV-2 (COVID-19), H3N2 (Influenza A), and the E. coli bacterium
* ISO 21702 tests for SARS-CoV-2 Variants (Omicron, BA.5), H3N2, H1N1 and ISO 22196 tests for Staphylococcus and E. coli.
* Treatments are approved by US FIFRA & EU BPR
ASUS NumberPad 2.0
Vivobook 14 is equipped with optional ASUS NumberPad 2.0​ which makes everything much easier when it's time to crunch numbers: simply tap the touchpad icon to enable number input.
Real-time webcam image optimization
ASUS 3D Noise Reduction (3DNR) technology and the new webcam effects take your video-calling experience to the next level. 3DNR significantly upgrades the image clarity of the HD webcam, with a unique algorithm that sharpens images and performs real-time de-noising to make sure everything looks crisp and clear during video calls.
Outstanding audio to hear the world
ASUS SonicMaster is a combination of hardware, software and audio tuning designed with the goal of giving you the very best audio experience. A professional-grade code ensures precise audio encoding and decoding; while amplifiers, large speakers and resonance chambers perfectly suited to Vivobook 14 ensure a powerful audio delivery and deeper bass. Additional signal processing and tuning help refine minute details, filter noise and improve audio clarity so you get truly immersive sound.